New York City nightlife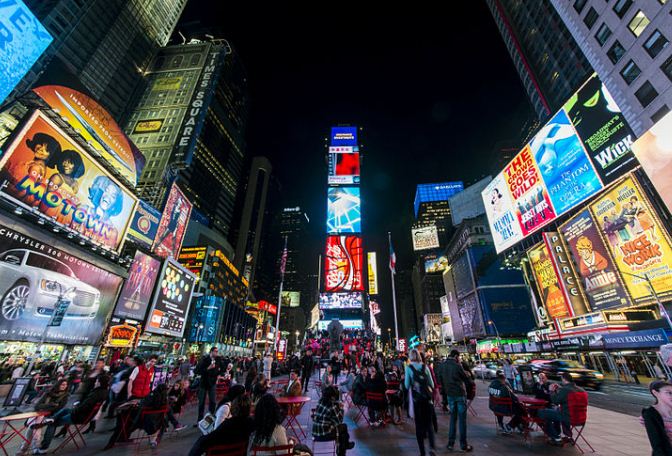 According to statistics, I'm not going to use exact numbers though since it keeps growing, New York City is the city of billionaires. Well, even if you don't agree just by talking about walking its streets gives me chills. My friend, this city is simply splendid. Think about Broadway, Copacabana, Coyote Ugly… oh well, I'll be frank, it's going to be a fantastic and electric night. Before you hop onto the next jet, be sure that you have your ESTA (Electronic System for Travel Authorization) Visa with you. If you don't have it yet, it's a travel requirement so you really need to get one. Getting it is easy though, just go online and apply. Now, let's go and have some fun.
Ever wonder how it feels inside a sardine can? That's what you're going to feel the moment you enter the doors of McSorley's Ale House. Don't worry though because it's a guaranteed fun. Lose yourself in the booze and let your bravado do most of the talking. Forget about your projects for a while and look for the hottie whose willing to share the expensive taxi ride with you on your way back. Partygoers love its relatively cheap drinks but be forewarned that it's crazy full any day of the week. I'm sure you'll get a date even if you believe that you can't get one. For sure, you're going to enjoy the ale, err it's the bar's signature beer and it's delicious.
How about a solemn night out? If your date is not so much into crazy parties and booze and whatnots, head directly to Broadway & Shows. The jazz is simply superb, hypnotic according to some but just all around great. Catch George Coleman play sax like a god, you'll be in trance in no time. Nonetheless, buy an early ticket if you want to see the undying "The Phantom of the Opera" musical. The actors have been doing it so long that they practically live their screen characters in real life, nah just kidding. In the end, you won't only get entertained but probably you'll also have the best night of your life.
Another favorite stop for party goers is the splendid Copacabana. Think about combining Brazil and America; indeed, that's one amazing salsa. Save yourself some precious time by getting there as early as possible because you can be on the guest list and avoid the long line. But if luck is not on your side, you'll probably wait longer before you can go inside this fantastic club. Don't forget to be on your best party attire, no jeans allowed inside for the ladies. That's perfect anyways since everybody's on the same page, time to show off them hot cleavages. There's live music upstairs and plenty of dancing – salsa it is. Downstairs is more for traditional dancing, your typical DJ club scene. Either way, you'll have plenty of fun.
If you've seen the movie "Coyote Ugly," chances are you're going to love the real thing. The locals love it because of its friendly price and of course the real red necks that go there. Some say this is where the real New Yorkers go to be themselves away from the glam that envelops the entire city, city of Billionaires you mean, that's right.
If you simply want to party, drink a couple glasses of beer or a glass of neat wine, New York's clubs are indeed the real things.